What is Speech Teletherapy?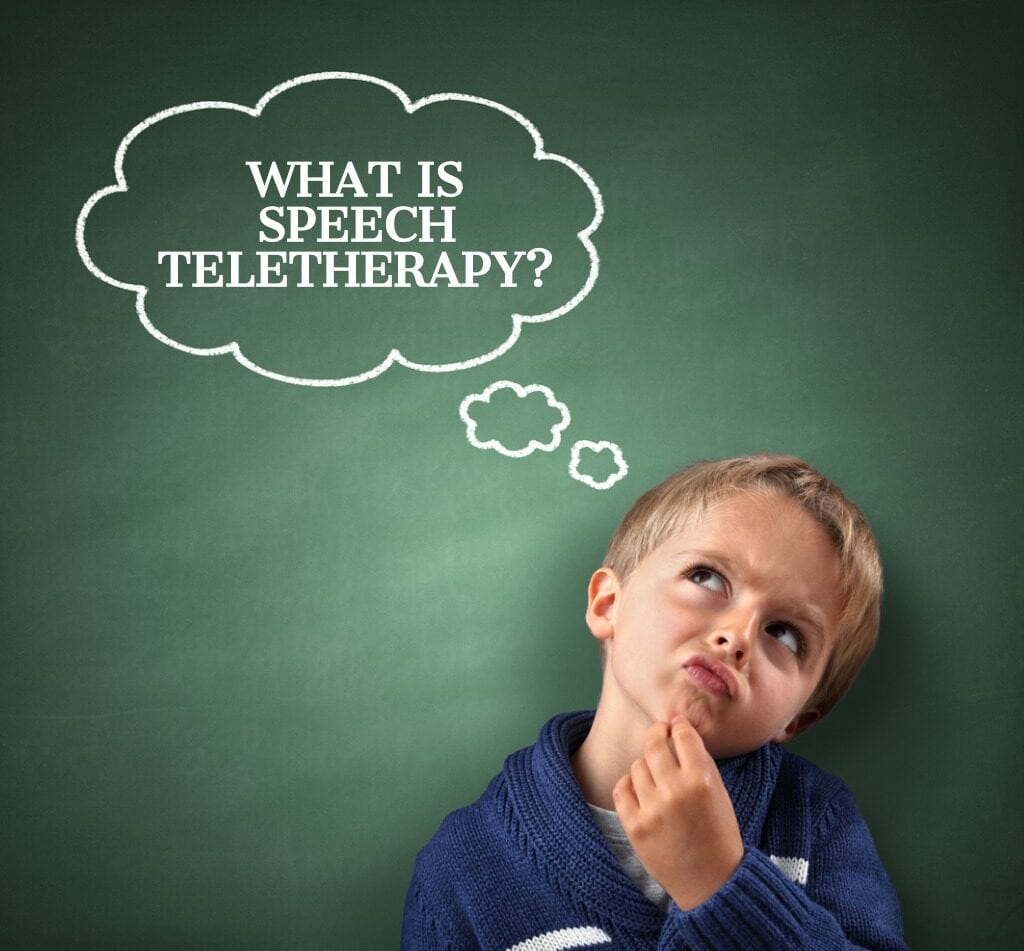 Teletherapy is a hugely expanding service that is improving the ability of clients to connect with speech therapists virtually. Due to limited access and full schedules, speech therapists are now seeing their clients virtually. Teletherapy allows for schools, parents, and individuals seeking speech therapy services to connect with knowledgable professionals while allowing flexibility in scheduling and location.
How Does Virtual Speech Therapy Work?
Students and therapists connect with one another live video conferencing. In order for a client to video conference, they must have a web cam, computer audio or a head set and working internet to participate in the therapy session. After the appointment time is confirmed, the therapist shares a joint calendar invite to each client's unique video conferencing link. Once each participant in the speech therapy session has logged in, they will be able to see and hear each other and interact with one another in real-time while also utilizing the latest technology such as shared screens and virtual worlds to fully engage. Therapists set up a complete online learning environment unique for each client to fully engage and work on their speech therapy goals.
Benefits of Speech Teletherapy Services:
Flexibility in scheduling
No travel required
Access to licensed professionals
High-quality interactive therapy tools and materials
Affordable pricing options
Individual or group services provided
User friendly and real time access to therapists
Complete two-way set-up of interactive technology
Secure, HIPPA compliant, network connections
Importance of Teletherapy in Modern Society
According to the recent report, there are around 56 million children in elementary, middle, and high schools. This makes approximate 17% of the entire country's population. Of these children, a large number of students will need extra support services such and speech and language therapy. Because of the limited number of speech therapists available in schools, the need for speech and language teletherapy services continues to grow.
Speech Teletherapy Is the Optimal Solution
Teletherapy is the most innovative and effective solution that also offers a range of flexibility to overcome barriers such as distance, time, and impaired mobility.
Connect Teletherapy provides speech therapy services including speech disorders (articulation and phonology), language delays, social skills, voice disorders and/or modification, fluency, AAC training, feeding and swallowing, and cognition. Teletherapy services are also a great way for parents to be more involved with either joining in on the sessions or receiving one on one consultation time with their child's therapist. Since Speech therapy services are virtual, many barriers can be removed such as distance, travel time, and scheduling.
FAQ's About Speech Teletherapy:
Is my child a fit for teletherapy?
As long as your child is able to attend to a computer or tablet for at least 15 minutes, he or she will be able to participate. Our team will schedule an initial consultation to determine if teletherapy is a good fit for you and your child.
What do I need at home to participate in teletherapy?
The process for setting up your computer for teletherapy is very simple. You will need a web cam, audio capabilities, and access to the internet.
Since delivery is online, does it affect privacy?
All services are delivered via a HIPPA compliant video conferencing platform for maximum privacy.
Does insurance cover speech teletherapy services?
Insurance does not currently cover speech and language teletherapy services. However, some providers will reimburse a portion of the services in a case by case basis. Connect Teletherapy will provide documentation for attempts to submit for insurance coverage.
Can everyone receive virtual speech and language services?
Yes. While most clinics and schools will only treat children with substantial delays, we are happy to provide any additional support services that fall under speech and language skills.
How do therapists interact with parents and teachers?
We value open communication with parents and teachers to establish and meet each client's goals. Parents will be involved in the initial sessions so that therapists are able to get a full picture of each child's goals and participate or pop into the session anytime to get more information. Teachers are involved in the scheduling and goal making process and kept up to date with student goals, progress, and schedule.